Shopping Basket
Your Basket is Empty
There was an error with PayPal
Click here to try again
Thank you for your business!
You should receive an order confirmation from Paypal shortly.
Exit Shopping Basket
Steamy Romance with a Twist
Journey into the mind of a writer on deadline...​
I have the attention span of a gnat.
I intended to work on the Halloween doors today, however, I found myself picking at the beginning outline for the second book in my historical co-write series. I never considered myself a plotter, in fact, I was adamantly against it because I felt it stifled the creative process. However, I discovered while writing A Perfect Deception that I had inadvertently created a makeshift outline through post-it notes. Yup.
Picture this. I wrote plot points, one per post-it, and stuck them to a large sheet, then rearranged the points until I reached the order in which I wanted the events to occur. I consider it to be a living outline, because I could move the points as needed. While this is a fun method, it's not very portable, so I started creating skeleton outlines, and then filling them in as the details emerged.
Over time I developed a hybrid outline process which is partially detailed, and allows for changes as I'm writing (those moments when I have an epiphany and want to tweak the direction of the story). This process also means that I spend several days working on the outline, but tonight's focus is just the major pieces, which works out to be usually 7 - 9 large events that sum up the story. On my second pass (which won't occur tonight), I'll flesh that out into one sentence per chapter. The third pass is for ensuring the story flows in a logical manner, and to add specific details that must be included in specific chapters. Then, I begin writing. As the story progresses, I'll come back and revise the outline to make sure I've included events that were not previously recorded.
But for tonight, I've got my skeleton done. Check that off the list.
Halloween event take two.
I completed one door today, the first one, which happens to be a trick (hee hee). This one took the longest, because I played with the formatting more than I should have, but since it's the first time doing this event, I wanted it to be easy to copy in case I do it again next year (which depends solely upon the response I get). However, door one was finished, and I realized I would need 12 more door images to set this up.
The rabbit hole of searching for images is quite deep and you can spend hours sorting through pictures. I tried to focus on just doors, but I also needed tricks too, and I found myself hunting through scary pictures with my son (which he thought was a fantastic Halloween game). We've also turned on Halloween movies in the background to keep us in the mood (and we're singing along with Pumpkin Jack).
With roughly twenty images downloaded, I logged off for the night, ready to set up the rest of the doors tomorrow. I hope it goes a bit faster than today's door, otherwise, it'll be Thanksgiving before I finish.
After I announced the Trick or Treating event in my reader group and newsletter, I was asked if I could make it available for people who didn't have (or chose not to use) Facebook. I tried, really I did, but me and technical things don't quite get along. After messing with my website for an hour, I'm no closer to figuring out how to schedule posts than I was when I started the project.
So, to those of you who couldn't participate, I am sorry. Perhaps next year I'll be a bit more tech savvy. As such, I only know how to make the pages invisible and have the links appear in my reader group (which was my original plan and the one I returned to now that I've proven I just don't have the know-how).
Sometimes it's best to just admit defeat and stop spinning your wheels. Unfortunately, for today, that means I've done nothing productive. When things like this occur, I think of Thomas Edison's quote, "I didn't fail. I just found 2,000 ways not to make a lightblub."
So, I didn't fail. I just discovered several ways not to schedule posts on my website. That counts, right?
I haven't yet addressed an important step yet in my process... publishing. If you follow the instructions, it is a fairly simple procedure to set up a new book for pre-order/release, and since Horrified is going into Kindle Unlimited, I only have to set it up on one platform. But the part that isn't, the part that you can spend hours on, is the key word section.
I don't have a crystal ball, so I I tried to pick words to describe the overall collection as well as the stories included that would also be searchable terms (underwater basket weaving may be a great idea, but no one hunts for it). I'm never 100% certain on this part (although I am aware of what words aren't allowed), and sometimes I'll go back in and adjust the key words if I find one that better describes the book.
However, for now, I'm happy with the choices. Cross one more thing off the list. It's slow going, but at least I'm going forward, one tiny step at a time.
I've been formatting so much this month, it's beginning to feel like "old hat", but that also means that I haven't gotten a lot of writing done. However, since I'm working with a limited amount of time, sacrifices need to be made.
There are two major historical writing projects that will absorb my focus for the coming months, and it's been nice to take a break from the past and run amok on Firefly Island. Even though I don't get to spend as much time here as I'd like, I do have the idea for the revelation of the third queen, and when I return again, that will be my next story.
Although it fits with the paranormal theme of the Firefly Island series, the Departed cover is by far the most adorable, and I'm pleased to share it with you (give your fur baby a kiss today).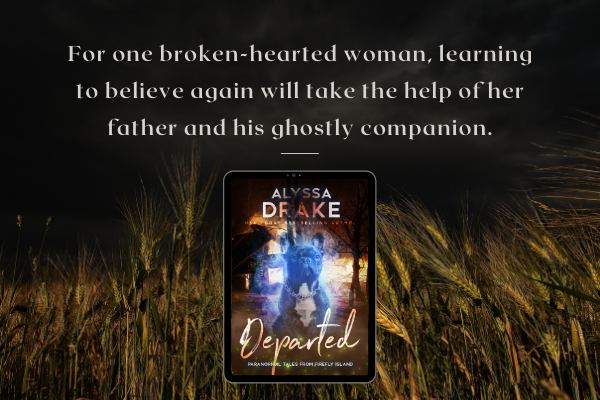 Departed came back today from my editor, and with plenty of time to get the corrections done for the fun event I have planned in my reader group on Halloween.
We're trick or treating for adults!
One of the treats will be Departed, which I'm giving away free to everyone who happens to knock on that door when it appears, (more information to follow on that later).
However, tonight, I just want to say how grateful I am for my wonderful editor, who always has time for me, even when she doesn't. I can't express how important having an editor is (and I know I've said this several times), but it one of the early lessons I learned as a writer. No one is perfect. No one. Don't raise your hand. No one is.
Also, I'm listening to Christmas music. Yes, I know we haven't hit Halloween yet, but it's peaceful, and we could all use more of that.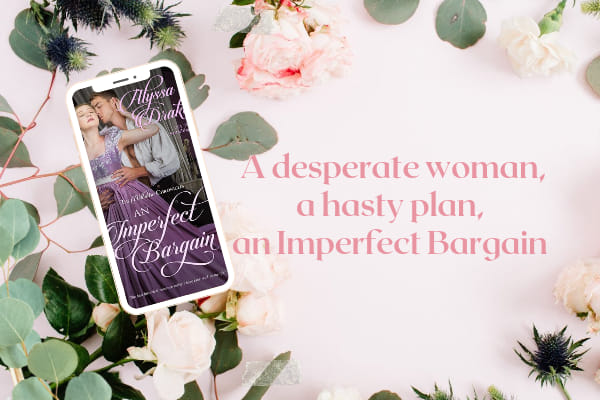 Formatting. My old nemesis. I did not turn off my laptop this time when I completed the format for An Imperfect Bargain (ironically I didn't need to leave it on, because I had zero corrections to do to the formatted file, but I digress).
The most significant change to this story was a tiny tweak which moved the location of Ceresus closer to England. Ceresus is a fictional location that is a pirate hideout (think Tortuga), but it reappears in my contemporary series as a tiny island nation where the subjects want to murder their queen. (That was your Easter egg warning.)
An Imperfect Bargain is free and available to anyone who would like to experience Wiltshire without the commitment of the series. You can download it from my website => www.alyssadrakenovels.com/wiltshire-chronicles.
Happy reading!
When I wrote An Imperfect Bargain, I hadn't planned to tie it back into the series, and was originally going to use it as an introduction into the Wiltshire world. However, when I wrote the first half of A Perfect Scoundrel (Alana's pirate adventure, which is due out in 2022), I connected the two stories by having the first mate, Mr. Shaw, become the hero of the second book (I also used the same ship and several of the same crew members in both stories).
Although I'm discussing future planning now, the completion of the back half of A Perfect Scoundrel will show the return of the main characters from An Imperfect Bargain (confirming their happily ever after), as well as connect this story to A Perfect Recluse (which is Alana's older brother Patrick's story). Yes, this is a lot of planning, but it's so much fun to see your favorite characters pop up across a series, so I'm undertaking this feat (you should see the character bible).
In the meantime, I've completed revising An Imperfect Bargain, and will format tomorrow, then upload as a freebie for all to grab (I'll put the link up tomorrow).
You'd think by now I would stop using the words "quick edit" because every time I think that, it turns into a project. Deep breath.
My steamy historical short story, An Imperfect Bargain, was originally written to be part of a pirate anthology of short stories. At the time the edits came back from the publisher of the set, my mother passed away. Instead of holding up the set, I approved her changes and allowed the story to be published without reading them. Since I have the rights, I decided to share this short story with everyone, but I wanted to do a quick readthrough.
Mistake.
As I dove in, I realized the story didn't sound like me. Since I'd accepted the edits without reading them, I had inadvertently allowed the editor to dull my voice. (insert mild curse word)
So, my one day project becomes two, because now I have to put myself back in. At least I don't have any haystacks to worry about.
Remember what I said about editing before sending anything to the editor? Yes? Good, because that's what I'm doing tonight (still better than formatting, but not by much).
I put The 10th Kingdom film on while I was booting up my laptop (the movie is a little over six hours I believe, however, I only plan to work through the first part). I don't mind a bit of background noise while revising (writing on the other hand is a different story), but in this case, campy, twisted fairytale romance sounded perfect.
Since it's Friday night, I can work later than I normally would, and I completed the edits (on episode 2). I'll reach out to my editor tomorrow and send her the file. However, while I'm waiting for the return of Departed, I'm going to do a revision of my other free story, An Imperfect Bargain (historical romance). This does happen to be on my list of stuff, and though it's not as high as some of the other things, I do need to get back into that world, and this seems like a two birds, one stone kind of moment.
/