Shopping Basket
Your Basket is Empty
There was an error with PayPal
Click here to try again
Thank you for your business!
You should receive an order confirmation from Paypal shortly.
Exit Shopping Basket
Steamy Romance with a Twist
Journey into the mind of a writer on deadline...​
You know that moment when you realize the decision you made was not the best choice?
As I was manually tallying up the latest newsletter giveaway entries, I realized that this entire step of transferring the data to an Excel sheet (and double checking it) could have been skipped had I set up a Google form at the time I created my newsletter.
Head...desk.
However, it's too late now, and due to that incorrect choice, I've dedicated an entire session that I could have been editing (or writing) to this giveaway. As I'm toggling between the email replies and my Excel sheet, I'm thinking this task is something I could have passed over to an assistant, had I not been suffering from "do-it-myself" syndrome (but that's a whole other kettle of fish).
We'll call this a lesson learned for next time.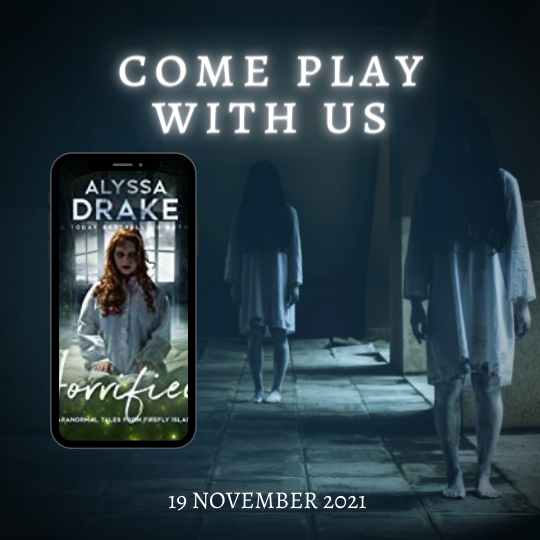 While I've participated in several boxed sets, I've never had the pleasure of assembling one myself. I probably shouldn't have made that my first task when I got the edits back for Horrified, but considering it does need to be assembled prior to loading it into the magical book making program (Vellum, for those of you who are curious), I decided to tackle that task first. 
The main concern I had was ensuring the reader was aware they were reading the next story in the collection, and not the background story running through the set. Therefore, I decided to use the covers that were originally attached to each story as the indicator of the next tale. I'm curious to see how this will look in paperback, as that will be printed in black and white, not the beautiful, bright colors on the covers.
I also fiddled with the chapter headings, changing them several times before deciding that each introduction section would also have chapter numbers. I must admit, I am in love with this cover, it fits more perfectly than I could have imagined. It just gives me the creeps.
 I was looking forward to beginning Chapter Two of my historical romance, because it's told from my heroine's POV (the Wiltshire Chronicles being my only series with dual POVs), but the difficulty I've found with showing both sides is that instead of writing one First Chapter, I have to write two, since each character must introduce themselves to the reader. Even though I have this story plotted out, I wrestled with how to portray her in the "second" opening.
Sarah was originally a side character that was introduced in A Perfect Plan as one of several young ladies who could be a potential wife for Benjamin, Lord Westwood. She's mentioned again, when her sister, Louisa, ends up with Alana Flannery on the ill-fated ship attacked by pirates in An Imperfect Scoundrel. At neither time was she portrayed in a good light. So, why would I give her a chance at happily ever after?
Because first impressions are sometimes wrong, and sometimes, the most trusted confident, shouldn't be trusted (cough, Alice Shirely, cough).
In Sarah's case, she discovered how fickle her friends could truly be, and when she was forced to resort to the very behavior of which they accused her, they destroyed her reputation. Mean girls, historical style. So, I gave her a second chance. I hope she doesn't muck it up.
NaNoWriMo (def.) The time a year when authors undertake the inane task of writing 50,000 words in 30 days.
For those authors who can write 2,000 words a day, this is not problem. In fact, I've seen authors complete this in a week, and while I am impressed by their ability, this is not something I've ever been able to do. At my most productive, I still fell short (that year I hit about 38,000 words), which was due to having to shift my focus from writing to editing. Inevitably, I have to edit during November. I'm not certain why that is, but this year is no different.
I'm actually waiting for two edits to come back. The first one, Horrified, is releasing November 19, and yes, I'm cutting it close for submission. Amazon does give you many (many) warnings about getting your book uploaded on time, and I have never been late, so I have no intention of starting now. The other story is my historical co-write (which will take most of my attention during the latter part of November). In between all of this, I have roughly 48,000 words to write for my historical romance, which would be the perfect goal...
So, I set up my NaNoWriMo profile for this year in the hopes that this year will be different.
 I find it amusing that reading romance novels counts as work research, but it does. When given the choice, I'll take paperback over screen (which I'm certain sparks some kind of debate). I admit, I was reluctant to move to screen, and though I do like being able to carry more than two books around, I miss the feel of a book, or more so, the pages beneath my fingertips. It evokes memories of hiding beneath blankets with flashlights, and rainy afternoons curled up on a windowseat.
When asked what my favorite genre is, I usually give the answer romance. Yes, that is broad, but there are so many subgenres and beautiful mixes of tropes in romance that I can't pick just one (I don't even write just one). So, my bookshelves are an eclectic collection of authors and series, some from my youth, and others that I discovered along the way. If I'd read the book again (or already have) it earns a spot on a shelf. Those I'd prefer not to experience a second time are donated to the library so others may discover a new favorite author.
Unless the book is autographed, then it never leaves the shelf. And this collective habit comes from my dear mother, who wrote to Richard Scarry and asked for his autograph when I was just a baby.
The worst part about feeling ill when you're the only employee, is that no one is there to pick up the slack (I am so fired).
So, while I'm laying here thinking of all the things I "should be" doing, I am thankful that I got my social media posts scheduled earlier this week. The most important task that needed to be done, was done, and although I have a myriad of things piling up, none of them are at a critical status.
For now, the mind of a writer on a deadline, is more a foggy mess than anything else, but I have green tea, and a sweet cat who can't decide if he'd rather lay on me or beside me with his paw on my arm.
I'm hoping to surface tomorrow. Down periscope.
I do not have time to be sick. (I do have time to take care of my family as they fall one by one to the illness that sent my little man home from school.) However, after playing nurse, it appears to be my turn for a bit of rest (okay a lot of rest).
I pushed myself through today, knowing that obligations needed to be met (which is probably the true reason I got sick, since I have a tendency to go until I drop). 5pm found me in pajamas, laying on the couch and thinking I'll just close my eyes for a moment...
That moment turned into the next morning, and honestly, I can't remember how I made it to bed. However, now I can't get out of bed, so I'm just going to lay here and stare at the cat (seems fitting, he stares at me all the time). First non-productive day since I started this blog, and unfortunately, it won't be my last.
It's time to address the elephant in the room, or at least the one in my room.
While I would love to support myself solely with my writing, the reality is, that like so many others in this profession, that dream is currently supplemented by a day job. As jobs go, this particular one is unique in the aspect that it is a chocolate factory (sorry, no oompa loompas).
I love chocolate (and books and coffee) so having a job in this industry is fantastic, but... While everyone else just started thinking about Christmas, I've been focused on it since August as this is our busiest season (honestly, who's shocked by that revelation?). As we get closer to Christmas, the demands upon my time from the day job increase, which subsequently reduces my available time for author related activities.
Based on past history, I knew this would happen, but I was hoping this year would be different.
It's not.
So, output goes down, stress levels go up, and Christmas music is blaring on my speakers... I could go for a peppermint mocha right now.
With all the doors active (but hidden) on my website, I began scheduling the posts to appear every hour. The fun part was going through each one to make sure they worked. To be honest, I'm disappointed I don't get to participate in the event (although I did grab the freebie from Door Five - thank you Tiff). I hope everyone has a wonderful time.
This is that moment of anticipation (like Christmas morning) that I love so very much. I'm great at keeping secret what gifts I buy (no one else in my family can), and I'm sorry I can't trick or treat with all of you.
However, if you loved the event, please let me know. It may make it on the schedule for next year.
A side note. My kid goes back to school tomorrow, so hopefully I'll be a bit more product on Wednesday. He's been home with me for the past few days with a cough and a runny nose. It's not "the virus", but it was enough to make the school send him home until he received the "all clear" from the doctor (which he did).
I know I'm running out of time to get the Halloween event up, so tonight my goal is to complete every webpage for the Trick or Treat. With the first template finished, it should be a simple matter of creating a new page, copying the previous format over, then editing it to match that particular door's theme. Notice, I said "should be".
My son is sitting next to me counting candy corn for the "guess how many pieces" giveaway. I'm certain a few of them didn't make it into the jar, but that's okay, because he deserves a treat for offering to count them all.
The door I'm curious to see will be the "Tell our own Ghost Story". I intend to collect all the pieces and post up the story (or paragraph) once we've passed Halloween.
While I do love doing this, I must admit, these administrative activities do take away from the time I should be writing. I'm on a deadline (actually more than one), and that little nagging voice is getting louder the closer we get to November.
/